The "Eiderbook", as we dubbed this truly fundamental work by Alexandra Goryashko is quite a rare phenomenon in domestic literature. This is an excellent piece of work in the genre of scientific and ecological education, even though the author has not, probably, thought of it that way. But the "Eiderbook", having hardly hatched, started living its own life, imposing its will not only on the author but on all the participants - the editors, scientists, the eider farming practitioners, artists and designers, and just anyone, who happened to be near, who, at some point of their lives, crossed passes with the eider or eider experts. The result was a monographic work not just about the eider but about Man, the history of many countries and nations, interwoven biographies, and the hard road of obtaining scientific knowledge. This book is not merely just interesting for all, including scientists. It is also very well illustrated and beautifully designed. It is a synergy of enthusiasm and dedication, of the love for the subject and demanding attitude to one's own work.

Maria Gavrilo, PhD, acting member of the Russian Geographic Society.

Member of the British Royal Geographical Society. A polar ornithologist with 35 years of experience.

Bought the Eiderbook. Now I'm speechless. I cannot even imagine what it took to create it. Thank you!

Thank you for doing such a great job of putting together and processing a huge amount of information and publishing it as a book!

Andrei Voronkov

I'm delighted. Today I got the BOOK, and now I, with great pleasure, am flipping over its pages enjoying the text and illustrations. With gratitude for your work and the best wishes,

Svetlana Patsayeva

There is such a genre in scientific literature - a collective monograph. Scientists of different specialties gather and describe the same object, each from his own point of view, from the standpoint of his own science. With a successful selection of the team of authors, interesting books

result

that give a

three-dimensional

idea of

the object

described. In this book, the same effect

was

achieved by a single author.
If I had not been familiar with this book from the moment of the birth of Alexandra's very idea, I would have decided that it was written by many experts,

competent but very

different: biologists, historians, religious and regional studies

experts

, ethnographers and material scientists, art and hunting experts, literary scholars and local historians. And so that they do not fall into scientific tedium, a journalist-publicist also worked with them.
But no, all this was done by one woman, a

n eider-expert and a

homeworker, who does not formally work anywhere. I had no idea that it

was

possible to process such a volume of

information

alone and present it to the reader

the way it was presented.


The illustrations by Maria Sergunina and all the work of Gennady Alexandrov on technical editing

, and especially preparing archive photos for the print,

are worthy of special admiration. Photos from a century ago

contribute to the book's charm

.

Aleksandr Chernitskiy, Doctor of Biological Sciences, took part in surveys of eiders and collecting down in the Kandalaksha Nature Reserve in 1965 and 1966.

***

What's in common between St. Cuthbert, an Icelandic farmer, an ornithologist, a Nenets hunter and the Papanin's tent?
They all turned out connected with a sea duck, the Common Eider (Somateria mollissima). During 14 centuries of the documented relationship between people and the duck some protected the bird, others hunted it, still others tried breeding it, yet others thought up thought up to use its nest down as an insulator, and there were people who had nothing to do with it but became part of legends.
The popular science book "A Wild Bird and a Cultured Man" by my colleague Alexandra Goryashko tells of the multi-faceted history of how the Common Eider met and interacted with humans.
Frankly, at the very beginning the idea of the book of "All About Elephants" type didn't appear very realistic to me. Alexandra, however, did the impossible by getting together a support group the size of a small research institution consisting of ornithologists, historians, hunting research, nature protection, ethnography, material science and art history. Finally, this book is on my desk. It has five sections, each one of which could become a separate book. The part of Eider biology was written in cooperation with professional ornithologists with whom Alexandra spent years counting and ringing the Eiders. There is a legend of St. Cuthbert, with a discussion of its origin and the analysis of what really was the case. The largest section tells of the Eider and Man in different parts of the world at verious time periods. It contains five biographies of people prominent in the study and preservation of the Eider. And, finally, it has a part about the Eider in art, both material and verbal.
Each section of the book is based on a huge amount of work to collect credible information and contains some original research. For instance, all know that the Eider down is the warmest material but it turned out nobody can answer the question why it is so. So Alexandra took the down and went to study it under the microscope.

Yes the book stays within the popular science genre. It is pleasant, easy and interesting to read as a recreation, not only to specialists in the course of their work. I'm sure everyone will find an interesting part in this Eider encyclopedia.

Sophia Nazarova, Ph.D.,
marine biologist,

Zoological Institute of the Russian Academy of Sciences
It turned out, in my opinion, to bea totally unique book. The author's ability to ask uncommon questions about usual things will prompt the reader not to take established myths for granted only because they were repeated many times over before. Thanks to exceptional thoroughness with which the author handles archives and original sources of information we can become acquainted with a great number of little known or just forgotten books, documents, and facts. At the same time the literary talent of the author allows a quite wide range of readers to enjoy reading this fascinating, in a "crime story" sort of way, book.

Alexander Kondratyev,

PhD, deputy director of research at the Institute of Biological Problems of the North of the Far East Section of the Russian Academy of Sciences

One of the top experts on the geese
I've known the author of this book and been aware of her work for 15 years, and am certain that both the book and its author deserve trust and support. All who helped in getting it published will be proud of having participated in making this book printed. There was no book about birds and people like this before!

Mikhail Kalyakin

Dr.Sc. (biology), director of the Scientific Research Zoological Museum of the Moscow State University
I was the first! I'll brag! I was the very first reader to grab this book!!!! Brought it home but my mom took it away from me, saying she would be the first one to read it, according to seniority. But when my mom fell asleep I sneaked the book away from her! This is fascinating! The text is beautifully written. The language is so easy it feels not like reading but listening to a story.

Maria Danilova

My grandchildren grabbed the book and are reading it at night. Occasionally I get a chance to take a peek into it...

Irina Pokrovskaya

A rare bird can fly to the center of Edinburgh

The legendary Eiderbook landed close to the St. Cuthbert Cathedral. And what a book it is! Such books can only be born by the author with active brain, true interest in the subject (she spent 40 years of her life on the subject) and a wish to tell about it in a true and interesting way.
The book weighs 2.5kg and has all sorts of information, with the eider being only a link between other participants: Inuits, Vikings, Catholic Popes, Icelandic farmers, failed risk-takers, Russian poachers and Catholic saints.
I'd like to remark that my reading of the book takes the form of a dialogue with the author. Every time I say out loud "this cannot be the case because it is outside what's possible", the next paragraph starts by the author calmly remarking "it may appear impossible but let's consider facts and arguments..."... And yes, the asserted fact does indeed take place. To give facts that surprise the reader required talent and more talent of the storyteller.
The book is long but there are enough interesting photos and funny drawings on every page. The author is certainly able to get the reader excited about any subject. A fascinating piece of reading. THANK YOU!

Kkalms, Scotland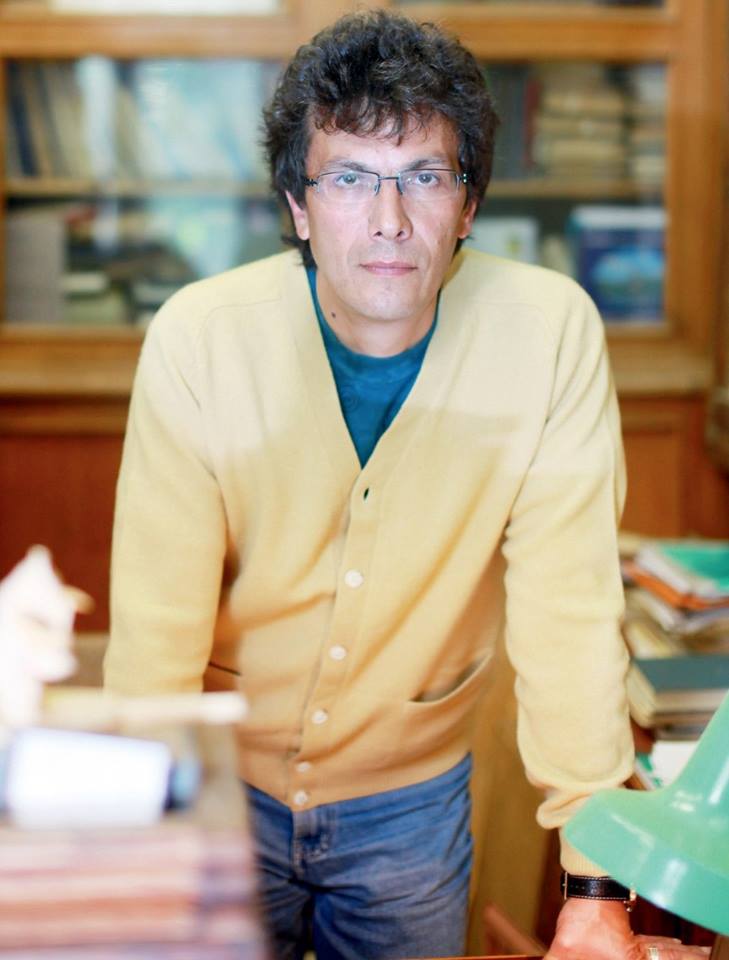 I think it is a deserving book, written very professionally and yet not at all boring. From this seemingly narrow subject of just one species of bird grew an impressive and captivating saga about nature, culture, and history of several countries. It encourages one to not only take a fresh look at the eider biology but on many issues of history, ethnography and even the methods of science. Lastly, this is just a very interesting and thorough piece of literature of the popular science genre.

Alexander Markov,

Dr.Sc. (biology), professor of Russian Academy of Sciences.

Head of the Biological Evolution Faculty of the Moscow State University's Biology Department, senior researcher of the Palaeontology Institute of the Russian Academy of Sciences.
Chairperson of the board of directors of the "Evolution" fund.
It happened! Today I managed to acquire a freshly printed, still warm, and certain to become legendary, copy of the Eiderbook "A Wild Bird and a Cultured Man. The Common Eider and Homo Sapiens: Fourteen Centuries Together" (St. Petersburg 2020). The most delicious 496 pages about the eider biology, its down, and the relations with people, from the time of the Vikings to nowadays. Coated paper, luxurious photographs of present and former times, striking miniatures... My congratulations to the author!

Georgy Vinogradov

I feel very proud to have helped Sasha and her husband Pasha with making the English version sound as natural as possible instead of being a purely academic book. While doing such a pleasurable task I learnt a lot of fascinating things about the marvelous Eider ducks relationship with Man in Russia and Scandinavian countries. It's been a labour of love for Sasha to put down in writing and share her immense ornithological knowledge with readers in such a way that it's a book that anyone would find interesting and informative and good enough to grace bookshelves or table tops anywhere. The illustrations and photographs add to the story. Buy the book for yourself to while away hours, as a gift for a friend or bird protection project in Russia or abroad. For certain they'll be thrilled when the wrapping's ripped off!

David-Leslie Urion

A review in the "British Birds" jouinal, April 2021, Vol. 114, Issue 4, pages 243-244

***

Congratulations! What an extraordinary book! We are absolutely thrilled to have this gem in our collection - to be shared with our friends. Thank you for our treasure.
My husband Dan is a sculptor, mainly of birds. This eider has a four foot wing span - I gave Dan this buoy (body) and then your book arrived and there has been no peace - he has been so inspired by your work and now he is completing this wonderful bird. This project was a long time in the background and now takes over most of his waking hours...

The eider finally made it to our living room! Mighty impressive duck! And it's all thanks to you.
Our danish friend Niels Roos read your book cover to cover immediately but we are savoring it slowly, learning more and more each time.

Dan & Kyra West, USA